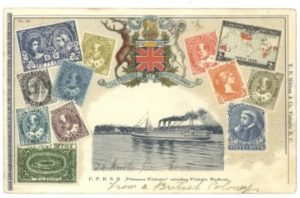 We will be meeting Sunday, October 14, 2018 in the Arts & Crafts Room at Hastings Community Centre. Doors open at 11:30 am for trading, with the presentation beginning shortly after noon, and proceedings wrapping up by 2 pm.
Melanie Hardbattle, Special Collections & Rare Books Archivist at Simon Fraser University and a postcard collector herself, will be speaking to us about the University's collections, including tips on searching the extensive offerings on the SFU Library's website.
All interested in postcards and our local and national history are welcome to attend.
Hastings Community Centre
3096 E. Hastings St., Vancouver, BC.

Above is a postcard showing the "C.P.R.S.S. "Princess Victoria entering Victoria Harbour",  framed by postal stamp images. She was built in 1902; in operation in BC in 1903. The sender has added "22 knots per hour" and "From a British Colony".  Postcard published by T.N. Hibben & Co. of Victoria B.C. Mailed to England; see the front and back of the card with postmarks on SFU's website.  Courtesy Simon Fraser University, Philip Francis Postcard Collection, MSC130-13616-01.
To join the Club or to renew your membership, please fill out a 2019 form here.