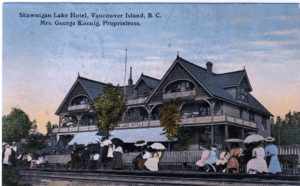 Our June Vancouver Postcard Club meeting  – on Zoom – is this Sunday, June 13th  –  from 11:30 am-1:30 pm PDT; 2:30-4:30 pm EDT.
To participate all you need is a computer with a camera.
Summer's Here!
Of course, you can share any postcards related to summer, travel, outdoors, holidays, Canada Day! – or anything else you are looking forward to.
All postcard related topics are welcome. Indeed, you are always invited to bring a favourite postcard, or a card that you have a story or questions about.
Please RSVP to info@vancouverpostcardclub.ca  You will receive a Zoom link via e-mail. If any difficulty with e-mailing the Club, please contact diane_rogers@shaw.ca
Postcard above – "Shawnigan Lake Hotel, Vancouver Island, BC". T N Hibben and Co., publishers, Victoria, BC.
Made in the USA. Private collection.