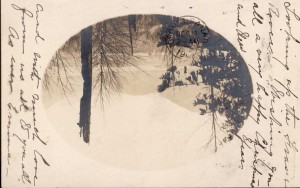 View Up the Fraser River, BC Christmas postcard, Image MSC130-0148-01. courtesy of the British Columbia Postcards Collection, a digital initiative of Simon Fraser University Library.
This year's Vancouver Postcard Club's Annual General Meeting will be held on Sunday, 10th December at the Hastings Community Centre. Doors open at noon; all ends at 2 pm. Please note the later start time.
We will have our annual Auction, always fun – bring your own items and/or be prepared to bid. We do expect to have postcards and ephemera for sale and there will be our own Club postcard boxes too.
The AGM will include reports and elections. This will be followed by the club photo and coffee and cake.
This is a great opportunity to swap or buy cards, meet and talk to other members and celebrate the Vancouver Postcard Club and the holiday season. Don't forget you can renew or submit your membership applications in person at this meeting!
Vancouver Postcard Club meeting time and location:
Sunday,  December 10, 2017 at 12 noon, a little later than usual. Located at the Hastings Community Centre downstairs Room #9 (next to the Board Room where we usually meet), 3096 E. Hastings, Vancouver, BC.  This event wraps up by 2 pm.
Our meetings are open to both Club members and members of the public. We welcome guests and new members.