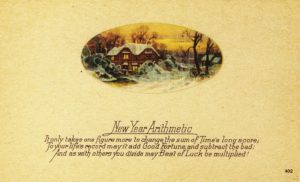 New Year Arithmetic
It only takes one figure more to change the sum of Time's long score;
To your life's record may it add Good Fortune, and subtract the bad:
And as with others you divide may Best of Luck be multiplied!
We are sure 2020 will add up to another great year for the
Vancouver Postcard Club and its members!
Upcoming Vancouver Postcard Club 2020 Meetings
January 12 – "Postcard Genealogy", an illustrated interactive session with M. Diane Rogers
February 9 – "The Botanie Valley Expeditions, 1914-1929" – An illustrated talk by Jolene Cumming
March 8 – "BC's Timms family of early printers and photographers" an illustrated talk by Barbara Jones
Watch for more news soon about these meetings and about our Annual Show.
Meeting location: Hastings Community Centre, 3096 E. Hastings St., Vancouver, BC
Meeting times: Open at 11:30 for talk and trading; meeting starts around noon; finishes promptly by 2 pm.
Follow this link to join the Club or renew your membership at the next meeting or by mail, if you need to.
An unmailed New Year's Card, 1910s? No artist, poet or publisher's names, only a circled K with a very apt quill writing bird image. If anyone can identify them, please let us know.