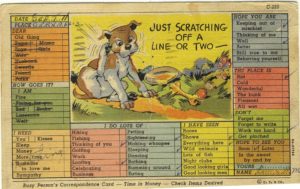 Our July Vancouver Postcard Club meeting  – on Zoom – is this Sunday, July 11th  –  from 11:30 am-1:30 pm PDT; 2:30-4:30 pm EDT.
To participate all you need is a computer with a camera.
Summer's Here! And at last we here in BC can get out a little further…
Of course, you can share any postcards related to summer, travel, outdoors, holidays – or anything else you are looking forward to.
All postcard related topics are welcome. Indeed, you are always invited to bring a favourite postcard, or a card that you have a story or questions about.
Please RSVP to info@vancouverpostcardclub.ca  You will receive a Zoom link via e-mail. If any difficulty with e-mailing the Club, please contact diane_rogers@shaw.ca
The joke holiday postcard above – "Just Scratching Off A Line Or Two" – was sent from Corvallis, Oregon, USA to New Westminster, BC, Canada in 1947.  In case you are wondering, the "I Need" section has been overwritten with "Mothering". So pretty sure this card went to a Mum. "C.T. Check Mark Comics", Curt Teich Company, Chicago. See many more with this guide – Curt Teich Postcard Archives Collection, Newberry Library.